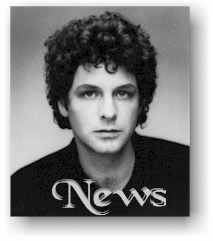 10/4/00---- Yes thats right Buckingham's Insane Theater has switched domains and joined up with Eric Monari and Playhear.com for better promotion and a great music community. You can still access this site through tripod (http://rhiann0n2.tripod.com) but http://insanetheater.playhear.com will be our new world wide web address. Visit playhear.com.



HAPPY 51st BIRTHDAY LINDSEY!!!!! :)




9/28/00---- Planned to be released on October 10 in the US through Appleseed Records (September 11th in the UK from Wrasse Records) is a release of material from John Stewart called "Wires From the Bunker" which was recorded roughly from 1981 to 1983. Lindsey Buckingham is featured on at least one track-- "American Way". Also, Lindsey was a special guest at Stevie Nicks' benefit concert on September 23.



1/17/00---- Please excuse the fact that this site hasn't been updated in a while, due to my (Sarah's) work on my solo album, school, and other things. Steph and I will be "re-decorating" this site for the next few days for a fresh new look. A Special update (and Thanx) to Jamie Buckingham (Lindsey's niece) for notifying us that Lindsey and Kristen are expecting another baby. Congratulations! Any additional information I recieve, I will post on here.



7/22/99---- WBWC radio station located outside of Cleveland, Ohio ("The Sting 88.3FM) is hosting "Fleetwood MAX'99" as part of the 1999 Summer Marathon Series on July 29th. Todd Richards (who sent the Penguin this information) will be co-hosting the event featuring the entire history of the band in 18 musical hours.



4/5/99---- Sorry for not updating "Buckinghams Insane Theater" sooner. Steph and I have had some chaotic, busy schedules which prohibited us from updating. BUT...Lindsey is busy finishing up his album which is tentatively due for release by late summer. I am SO psyched!!



3/16/99---- Mick Fleetwood was interviewed in the February 25, 1999 Star Ledger and stated that he and the other members of Fleetwod Mac have been helping Lindsey for his new album which may be ready for release by late summer.



3/1/99---- ONE YEAR ANNIVERSARY OF BUCKINGHAM'S INSANE THEATER!



2/20/99---- Stevie Nicks will not be performing with Fleetwood Mac at their Omaha Concert. New links were added to the link page.



2/12/99---- VH1 is having a Behind the Music marathon on Valentines Day (this Sunday), which includes Fleetwood Mac's
"Behind The Music" at 7PM EST.



2/11/99---- Fleetwood Mac will be playing a concert in Omaha this month.



2/11/99---- Lindsey's new album "Gift of Screws" will tentatively be released in October of this year (Along with Stevie Nicks' new album "Trouble In Shangri La" which is scheduled for release on October 5th). The exact date is still unknown.



2/7/99---- It was announced on January 28, 1998 that according to Reprise Records, Lindsey's new album is tentatively scheduled for release sometime in 1999. It still does not appear to be listed in any particular month though.



1/11/99---- I just heard that on January 2, 1999, Rutheda Buckingham, Lindsey's mom, passed away. I am so sorry Lindsey, our condolences are with you. We will be adding more pictures, sounds, and possibly more clips in the near future, so keep on coming back to check it out. Also if there are any things you want us to put on the page please email us.



12/24/98---- Lindsey Buckingham is helping Stevie Nicks on her new, upcoming solo album. He will be contributing by playing guitar and adding some backup vocals. There will be 2 Buckingham/Nicks songs Stevie is redoing on the album also.



10/4/98---- Well I finally have a picture of Kristen . She is a very beautiful woman. Congrats to her and Lindsey once agian.



10/3/98---- HAPPY 49TH BIRTHDAY LINDSEY!!!!! Hope all your dreams and wishes come true.



9/8/98---- Lindsey's "Gift Of Screws" will be coming out in 1999, not this year now.:( Who knows, maybe he'll make some songs about little Will?!?! I heard that Fleetwood Mac will be touring again in 18 months! I'll find out more on that! Take care.



7/30/98---- Well it is for a FACT that Lindsey and "Kristen Messner" had a baby boy named William Gregory Buckingham on July 8, 1998 at 10lb 6oz. They are NOT married. Someone pointed this out to me (Buckingham= Buckingham's Palace, Gregory= Lindsey's deceased brother, and William= Prince William, WHY? Prince William and Buckingham's Palace are related!) Either that or I am losing my mind.



7/22/98---- Lindsey and Kristen welcomed a baby boy, William Gregory, into this world. (still trying to find the date), just under 7lbs. Congrats to the happy couple. The Trading page is all done, and I added tons and tons of pictures.



7/15/98---- Rumours going around saying Lindsey and Stevie are back together (also slept together), and that he is going to have a baby. WELL everyone I am very dissapointed about this but they are not true. No Stevie and no baby. I just think people should respect them and not go into their private lives, whatever they do, it is there business not ours!



5/29/98---- Okay I am sorry Lindsey fans, but Lins won't be at the Kiss concert, he cancelled his performance due to the flu. He is home in bed recuperating. ( "Hope you get well Lins" ).



5/24/98---- Well poeple you are just in luck. For those who couldn't make the Kiss concert in Boston, it is going to be aired on PayPerView (PPV), from 8-11PM eastern time. Call your local cable company for more information.


5/24/98---- Today at 7:00PM to 9:00PM, radio stations, Magic WMGK 102.9FM and Q104.3FM Classic Rock, are play the Irvine Meadows Dance Concert. Make sure to check that out!



4/25/98---- On May 30, 1998, Lindsey will be in Boston at Great Woods, doing a small little concert. You can get tickets by calling (617)423-6398. He'll possibly be doing this to talk about his upcoming solo album.



4/25/98---- Added two more pages of pictures to the picture section. Also added two articles into the articles section. (All Stevie and Lindsey Romantics, Lindsey and Mick talk about Stevie's affair)



3/28/98---- In the Rolling Stones Magazine, issue of April 16, 1998, there was a short article about Fleetwood Mac: Stevie Nicks and Mick Fleetwood worked the room. "Hey, Mick, what's up with the Mac?"We're trying to convince Christine [McVie] to keep touring - she's not so keen on it," he said. "We're going to make more music together, certainly, in the studio. But first LINDSEY [BUCKINGHAM] has a solo record coming out, and there's a Stevie box set. Lindsey and I are going to tour for his album, just the lads out rock & roll."



3/28/98---- Lindsey's new upcoming solo album has been finally titled.:) "Gift of Screws" which originates from an old Emily Dickenson poem, featured below:

"Essential Oils - are wrung -
The Attar from the Rose
Be not expressed by Suns - alone -
It is the gift of Screws -

The General Rose - decay -
But this - in Lady's Drawer
Make Summer - When the Lady lie
In Ceaseless Rosemary -"

3/27/98----News page was created.



3/1/98---- Buckingham's Insane Theater was born.